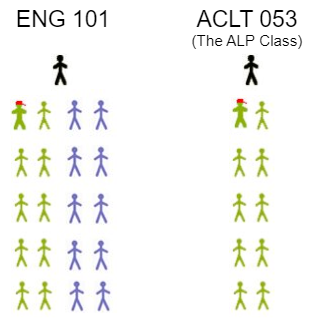 The Accelerated Learning Program (ALP) is a co-requisite model developed at the Community College Baltimore County (CCBC) by Professor Emeritus Peter Adams. ALP is a nationally recognized program that has served as model for 100's of colleges across the country. CCBC is one of the only institutions with longitudinal data that demonstrates the success of this co-requisite program since 2007.
ALP is the default option for students who place into developmental Integrated Reading and Writing at CCBC. ALP is comprised of a 3-hour non-credit Integrated Reading and Writing course (Academic Literacy 053) and a 3-credit College Composition Course (English 101) simultaneously. Twenty students are enrolled in the ENGL 101 course. Ten of those students are also enrolled in ACLT 053 with the same professor.
The purpose of the ACLT course is to support the work in ENGL 101. It is an opportunity for students to focus on critical reading, writing, and thinking in a small cohort.
The Main Benefits of the Accelerated Learning Program
Eliminates "exit points" for students
Reduces stigma
Improves attachment
Encourages cohort effect
Changes attitude toward the developmental course
Allows more individual attention
Allows time for dealing with non-cognitive issues
Allows students with dev. placements in writing and reading to enroll in credit Composition course
Student completion rates in the College Composition course have doubled compared to the stand-alone sequential developmental model.